Scent List:
Thank you for browsing. Please email, Charline_Ratcliff@yahoo.com or call, 831-204-0547 with questions or orders.
Bergamot
Blue Hawaii
Cherry Vanilla
Citrus Basil

Coconut Lime

Coconut Mango

Cranberry Vanilla

Fresh Coconut
Fresh Linen
Gardenia
Grapefruit Ginger
Haupia 'n Papaya
Hawaiian Coffee
Hawaiian Dream
Hawaiian Holiday
Island Fire
Island Vanilla
Leaves
Lemon Berry
Lemon Burst
Lilac & Lavender
Lilikoi
Lime Lemongrass
Macadamia Nut
Maui Grapefruit
Maui Sugar
Norfolk Pine
Ocean Sunset
Papaya Mango
Papaya 'n Cherry
Pikake Jasmine
Pina Colada
Pineapple
Pink Sands
Plumeria
Sandalwood
Sweet Almond
Tropical Coconut
Tuberose
Vanilla Fire
Vanilla Lime
Vanilla Sandalwood
Please follow the "
Scent
" tab for the individual scent descriptions.
Containers & Pricing:
Soy candle and product options. (If you're seeking specialty containers for group events such as parties or weddings, please email me with your needs.)
Please email, Charline_Ratcliff@yahoo.com or call, 831-204-0547 with questions or orders.
Votives (2 pack)                            $5.95
Wax Melts (6 piece)                     $6.95
Tea Lights (6 pack)                      $8.95
Travel Tins (4 oz.)                        $9.95

Honus (2 oz.Turtles)                   $9.95
Coconut Shell (4/5 oz.)               $11.95
Monkey Pod Bowls (4/5 oz.)     $11.95
Shipping (Flat Rate US)              $9.95
Some additional container info.
Monkey Pod wood is a fast-growing, sustainable, tropical hard-wood from the Hawaiian Islands.
The Turtles (Hawaiian Honu) and Monkey Pod Bowls are each, individually carved; consequently, no two are ever alike.
Turtles can be reused for Tea Lights once the initial candle is burned/gone.
Monkey Pod Bowls can be re-purposed once the candle is burned/gone. To remove any leftover soy wax simply wash with hot water and soap.
DO NOT PUT BOWLS, COCONUTS, OR TURTLES IN THE DISHWASHER.
Please email,
Charline_Ratcliff@yahoo.com
or call,
831-204-0547
with questions or orders.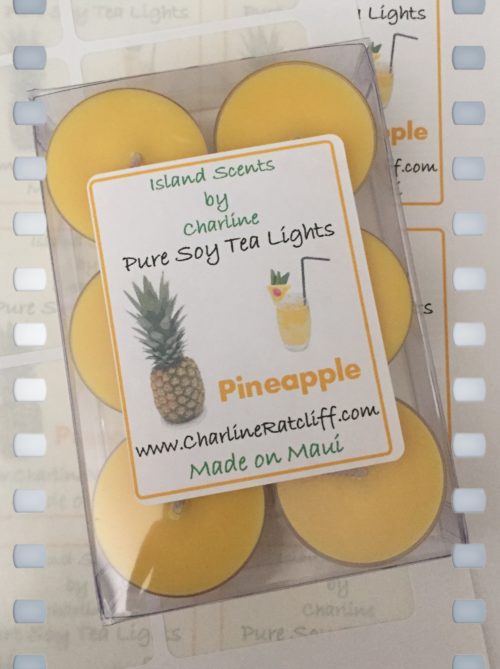 Candle Gallery
Why Soy?
All Natural
Clean Burning
Non-Toxic
Longer Burn Time
Better Scent Retention
100% Renewable Resources
Helps The American Farmer
Proper Care for Your Treasured Scents
Always trim wick to ¼ inch each time prior to lighting.
Never light candle and then leave it unattended/forget about it.
Following these simple steps will help you achieve the longest possible burn time for your candles.
<
>
I am a repeat Island Scents by Charline candle customer, (and have been for several years now). Charline has so many great candle options: a tropical line, a non-tropical line, plus wonderful scents for the various holidays. Best candles ever!! My house always smells great, and additionally, I really like the fact that the soy candles don't smoke.

Suzanne A.